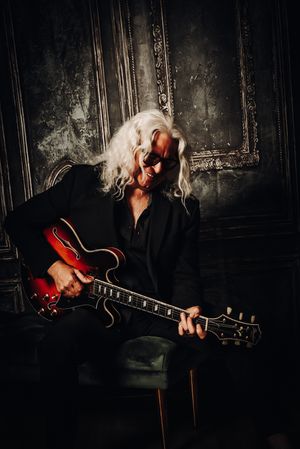 Bio/CV
Born - New Orleans, Louisiana, USA, November 16, 1962
MUSIC
NEW ORLEANS, LOUISIANA (1979 - 1985)
Folk/Blues Guitar - 1979-80 private study with Ellen Simon (in the Simon home)
Musical Theatre - Tulane University Junior Lyric Theatre (for high school students, with Anthony Laciura)
Jazz/Blues Guitar - Loyola University (private study with Bill Huntington)
Improvisation - Loyola University (masterclass with John Scofield)
Music Business - Loyola University
Piano - Loyola University (Elise Cambon)
Music Composition - University of New Orleans (UNO)
Orchestration - private study with Grammy Award Winner, Ellis Marsalis (in the Marsalis home)
Vocal Technique - private study with Barbara Bernard (in the Bernard home)
LOS ANGELES, CALIFORNIA (1985 to present)
Lyric Writing/Music Business - with K.A. Parker, BMI Insitute
Song Writing - with Harriet Schock
Writing for Strings - with Grammy Award Winner, Henry Mancini
Orchestration - private study with Dr. Albert Harris
Song Writing - private consultation with John Braheny
Vocal Microphone Technique - private study with Brad Chapman
Film Scoring - with Earle Hagen
Jazz/Blues Guitar - under the tutelage of Robert Conti
A.A. Behavioral Science - Los Angeles Pierce College
Cajon - with Gino Gamboa and master class with Eduardo 'Papeo' Alban
Guitar Criollo - Willy Terry (masterclass)

Mentors:  Ellis Marsalis, Bill Huntington and Anthony Laciura
As for dance, SD has composed music for Gabriel Masson Dance (New York, NY), Martin Dancers (North Hollywood, CA) & Ballet Memphis (Memphis, TN).
Scott has worked as a collaborating lyricist with many artists, most notably, funk band sensation, Orgone, and renowned American composer, Dr. John M. Kennedy.
He has opened for Gregg Allman, The Neville Brothers, Woodenhead, Arlo Guthre, David Bromberg, The New Orleans Preservation Hall Jazz Band and others and has worked with members of the Los Angeles Philharmonic Orchestra and New Orleans Symphony.  He has also worked with Orgone, Allen Toussaint,  Aaron Neville and Pete Fountain. 

Among the many artists with whom Scott has performed include John Angotti, James Andrews, Paulie Cerra, Julio Andrade, Victor Vento, Gino Gamboa, Jake Carmona, Rene' Coman, Eric Reed, Paul Clement, Mark Whitaker, Albert Trepagnier Jr, Jim Goodall, Dale Jennings, John "Spazz" Hatton, Gloria Quicano, Joseph Parsons, Bill Johnston, Jack Wargo, Tom Fillman, Ricky Lucchese, John Kennedy, Satik Andriassian, Kelly's Lot, Ed Cogan and Grammy nominees Teresa James & Terry Wilson, as well as Grammy Award winner Bernie Dresel, to name a few.    He has performed as guest guitarist with Chamber Players of Los Angeles, California State University Los Angeles Classical Guitar Ensemble, California School of the Arts Guitar Ensemble and as guest vocalist with Donny Most Big Band.
Scott has performed in Asia, Europe, South America and throughout the United States.
His orchestral premiere as a composer/orchestrator (his own "On Christmas Day") was with the New Orleans Symphony. 
The music of SD has been honored by Billboard Music Awards, Utah Symphony, Nashville City Song Festival and the Los Angeles Songwriter's Showcase.  His work has been placed for consideration for the National Academy of Recording Arts and Sciences' Grammy Award as well as for the Pulitzer Prize for Music.  Mr. Detweiler was also awarded the Congressional Certificate of Recognition for his contribution to the arts in California, as well as the Best Audio/Music/Sound Track for a Short Film ("Serving For 4") at the Colorado International Cannabis and Hemp Film Festival. 

In September 2022, Scott won the Battle of The Bands (in the solo/duo division), and was selected by the Santa Clarita Valley (CA) Blues Society to represent them at the annual International Blues Challenge (IBC), hosted by the Blues Foundation,  in Memphis, in January 2023.  In Memphis he competed against the hundreds of challengers and emerged with the prestigious honor of being designated an official 2023 IBC Semi Finalist, among the top 24 blues artists in the world.  He would be the only artist to be sent from California in the solo/duo division.

On February 16, 2023, Scott was awarded the prestigious JazzZone Jazzabration's Living Blues Legend Hall of Fame Award at The Barbara Morrison Performing Arts Center in Los Angeles along with co-honorees, bandmate Bill Johnston, Cleveland Jones (Temptations, Delfonics) and Norman Carter (Delfonics).  

Scott's epic 2023 blues album, "Memphis Bound", has been nominated for Album of The Year for the Josie Music Awards, in the Blues category.  The JMA's recognize independent artists in the music industry.  The awards ceremony is scheduled for October 22, 2023 at The Grand Ole Opry in Nashville.  "Memphis Bound" is one of 5 (five) albums nominated from over 50,000 (fifty thousand) submissions.
His music can be heard in film, including Lifetime Movie, "A Christmas Arrangement", and Sharon King's award-winning, "Serving for 4".
Scott served as a jury member and sat on the board of directors for the annual Gohar & Ovanes Andriassian Classical Guitar Competition and Festival at California State University Los Angeles, and was a Teaching Artist in Los Angeles, teaching  blues music to inner city high school students in the Los Angeles Unified School District system.
SD occasionally performs with the music ministry at Our Lady of Grace Catholic Church in Encino, California, as guitarist, composer, arranger, cajonero and cantor.  He also performs for the prisoners in the California prison system, through the Los Angeles Archdiocese Office of Administrative Justice. 
FILM
Scott was active as an actor in high school plays and musicals and then in operas during his tenure as a student at the University of New Orleans. 

"SERVING FOR 4"
In 2019 he was cast in a starring role in his first-ever motion picture experience, "Serving For 4", a short comedy shot in L.A. and based on true story.  Excerpts from his rock instrumental piece, "Shrine" were also used for much of the sound track.
At the 2020 Colorado International Cannabis and Hemp Film Festival the film was awarded 1 (one) award for Best Actress in a Comedic Short Film and garnered 10 (ten) nominations , including the Best Actor in a Comedic Short Film, for Scott, and Best Audio/Music/Sound Track for a Short Film, for his rock instrumental piece, "Shrine".

"IT'S NOT A BURDEN: THE HUMOR AND HEARTACHE OF RAISING ELDERLY PARENTS"
Scott''s mother-in-law, Maria Acosta, is featured in the latest documentary by Emmy nominated cinematographers, Michelle Boyaner and Barbara Green, "It's Not A Burden".  He and his wife, Elsa, also appear in the film.